Shorty Brake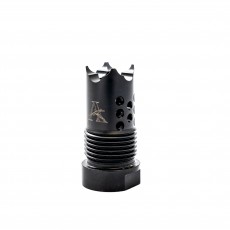 Product Code:
Shorty Brake
The Aklys Defense Shorty Brake utilizes gas vectoring technology in a compact package! Offset porting redirects muzzle gasses to counteract muzzle rise while shooting, allowing the shooter to stay on target for shot after shot. Made from 4140 steel, Black Nitride coating for the best in wear resistance and durability. Available in 1/2X28 for 5.56/.223 or 9mm, 1/2X36 9mm, 9/16X24, 5/8X24 for 300Blackout/7.62 and 14-1 Left hand for AK based guns.
Externally threaded to accept our suppressors. Thread options are right hand unless noted
Here's a video of the brake in action!