BIHM Brake, Big Bore Muzzle Brake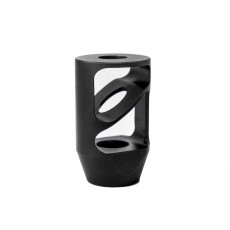 Product Code:
Mojo Magnum .308 Brake
The BIHM Brake, Big Bore Muzzle Brake is designed to provide for superior muzzle control and allow for faster follow up shots for your larger 45 baliber Rifles and hand canons! The BIHM Brake, Big Bore Muzzle Brake utilizes gas vectoring technology with offset ports to counteract muzzle jump and neutral porting to dump the gasses that create felt recoil. In other words, this brake will reduce split times and works great for controlling full auto fire. We use this brake on our belt fed machine guns to make them more controllable and allow for use of a suppressor. Made from 4140 Steel, black nitride coating for the best in wear resistance and lifetime durability. Available in 5/8x24 for .300Blk, .270, 7.62x51/x54R/x39, 300 Winmag, 300WSM or any other .30 caliber or under magnum round.