Aklys Defense Sabre 360 .30 User Servicable Suppressor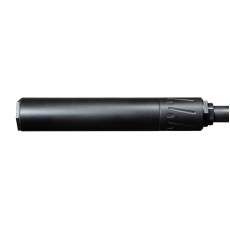 Product Code:
Aklys Defense Sabre 360 .30 User Servicable Suppressor
Availability:
Out Of Stock
The Aklys Defense Sabre 360 is our .30 caliber user serviceable suppressor. This can is a heavy duty, Lifetime warranted and full auto rated suppressor that uses a Triple threaded interface and modular blast chamber for a light weight (11oz) and less back pressure as other cans while allowing for upgradability to keep you Future Proof!
The triple threaded 17-4 stainless construction with blast baffle and Titanium Tube give this suppressor a lifetime of use and its user serviceable design allows use of extensive subsonic and un-jacketed lead projectiles without fear of clogging up the baffles. Symmetric core for minimal and consistent point of impact shift compared to unsuppressed host or other suppressors.
Come Standard with the Aklys Defense QD muzzle brake system for compatibility with 14mm LH, 1/2x28, 9/16X24, and 5/8X24. Additional brakes available at request.
Optional Keymo ratcheting QD adaptability!
Features:
Calibers: UP TO 300 Win (with 22" or Longer Barrel) 556 (Down to 10.5" Barrel)
OALength - 8.5"
Diameter - 1 .485"
Weight -11oz. with standard mount
Materials - 17-4 series Stainless Steel with reinforced Blast chamber
Finish – Natural Metal, Heat Colored, Black (inquire for custom colors)